Luge Lou Bac Mountain - Grand Opening in Les Angles






Les Angles is located in the middle of the French Pyrenees and has become a great 365-day destination in recent years
Place:
Les Angles /
Year:
2021 /
Product:
Mountain Coaster 2.0
Since June 19, 2021, the Mountain Coaster named "Luge Lou Bac Mountain" has been opened, providing a great addition to the summer and winter offerings.
"Luge Lou Bac Mountain" is one of the longest and most action-packed mountain coaster tracks Sunkid has ever built. The approximately 2-kilometer-long run traverses an average gradient of 23%. In addition, various thrill elements such as jumps, waves and speed turns have been installed.
Not only the descent makes this mountain coaster special, but also the possibility to use it at night during the winter months. Therefore, the ride is completely illuminated so that visitors can see the course of the track and adjust their speed accordingly.
Operation is possible in all four seasons (i.e. also in winter), as the Mountain Coaster track does not cross any existing slopes and therefore does not interfere with skiing operations.
Luge Lou Bac Mountain - Les Angles
Length Valley-ride:
2000 m
Length Mountain-ride:
1500 m
Mountain conveyor system:
Existing gondola
Ø Gradient Valley-ride:
23 %
New product innovations from Sunkid were used for the first time in Les Angles: a fully automatic garage system that maximizes the capacity of the Mountain Coaster and even has remote maintenance. In addition, a new magnetic brake, which is maintenance and wear-free, was installed at the bottom station. This is also covered with a gallery and therefore perfectly suited for the requirements of an all-weather coaster.
From the valley back to the starting point, guests and mountain coaster tobogganers are transported by the already existing gondola lift "LES PELERINS". The top station has a fully automatic garage for 65 vehicles. The garaging system is designed for transferring the toboggans to the feeder line to the boarding area - once there, the ride can start again. The system is also used for the distribution of the sleds that are not needed to the parking tracks.
The duration of the ride is 6 minutes with a maximum speed of 40 km/h throughout. During this ride time, guests can enjoy a fabulous panoramic view of Les Angles and the plateau on which the village is located by crossing bridge structures. In addition, the railroad is perfectly integrated into the surroundings of the skiing and hiking area and thus does not disturb the landscape.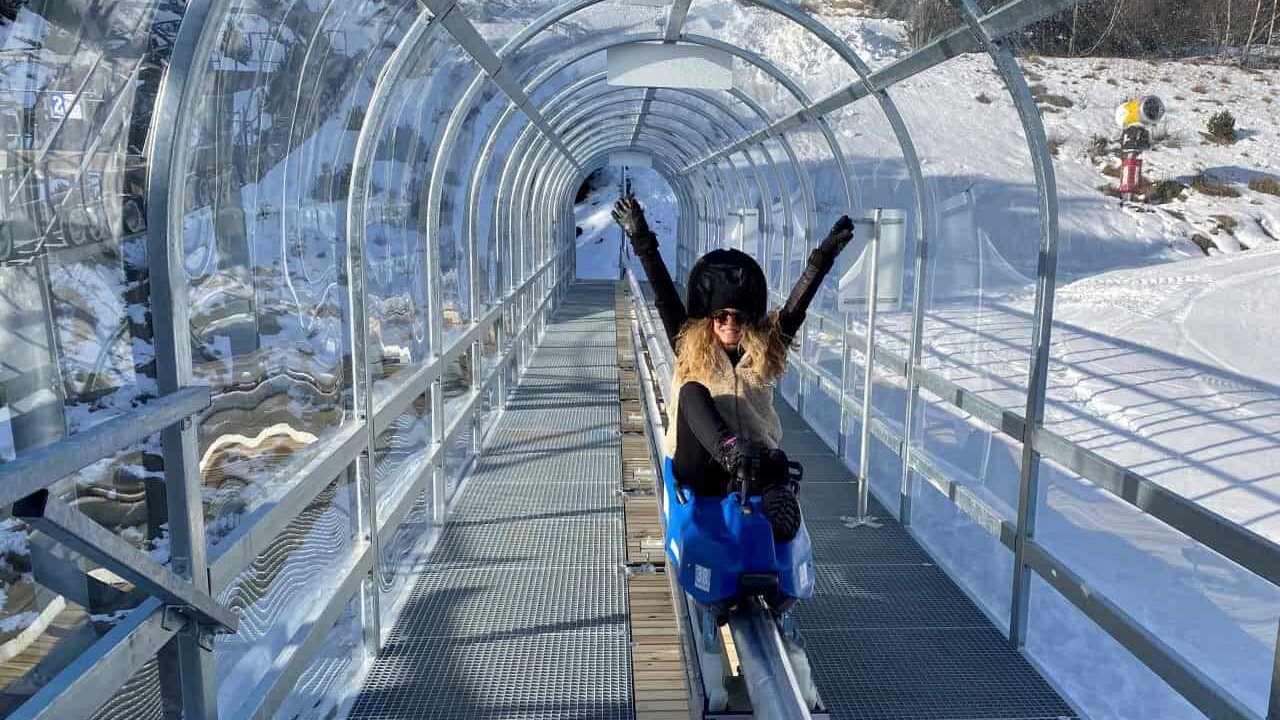 More Projects
Sunkid is one of the world's leading year-round providers of leisure attractions for the whole family. From individually selected attractions to individual overall concepts.